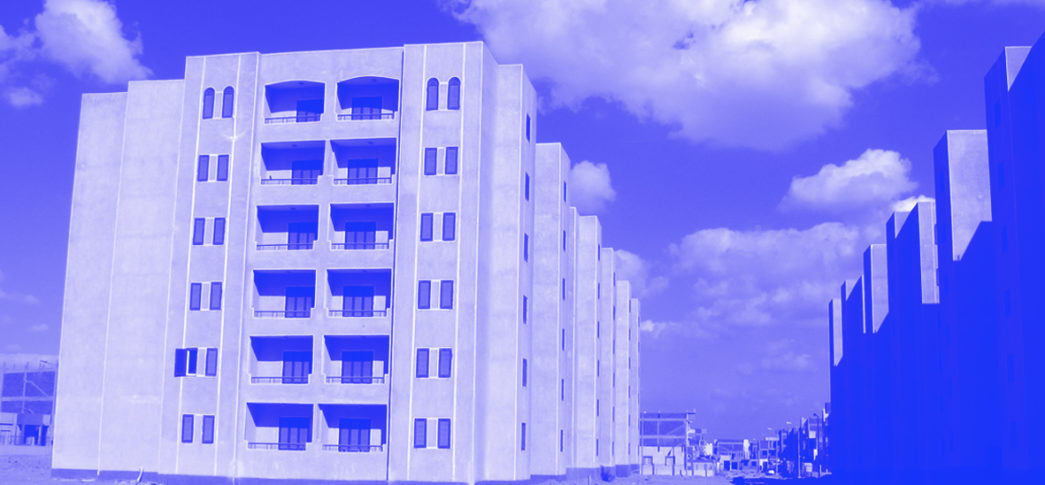 Analysis: Government Policy Commodifies Housing
Published on

17 November 2017
As part of the BEO's State of Housing 2017 series, we take a look at the housing market, and the challenges facing low income buyers of both private  sector and social housing. To read other articles in the series, please click here.

Introduction
According to the latest census,[1] Egypt has as many as 11.7 million vacant apartments, enough to house 50 million people, or more than half the population. Despite this huge surplus, in 2016, 49.2% of Egyptian households could not afford the median priced homes,[2] meaning that the so-called supply and demand theory does not work. This percentage is also likely to rise this year, as median house prices have ballooned by 31.1%,[3] while incomes have only grown by between 6.3% to 11.7%;[4] less than a third of house price inflation.
The informal private sector has been the traditional supplier of housing to middle and lower-middle income Egyptians looking to own a home.[5] Mostly because their units are available in most cities and towns, are well located locally, and do not require much, if any formal paperwork on the account of the buyer. On the flip side, informal housing has precarious tenure as the buildings are unlicensed. While many housing units have relatively compromised infrastructure. They also depend on savings rather than income, buyers would typically be asked to pay off the units over two-years at the most, meaning higher down payments and high monthly instalments. The units are also delivered unfinished.
The government also targets this income group through its Social Housing Project (Iskan Igtema'ey), which offers three bed-room flats sold through subsidised mortgages that can be paid off over 10 to 20 years. On the other hand, the beneficiaries of these programs must be formally employed, an eligibility criterion that excludes almost two thirds of Egyptians. Down payments remain unaffordable to many, and the housing is usually located in remote desert areas, that lack services and are far from jobs.
Need for middle income housing remains high, but prices have also been ballooning. With increasing building costs, the government's crackdown on informal housing, and the instability of the Egyptian pound over the past few years, the informal private sector has been shifting away from the middle-income housing market to higher segments.
The government has also been actively commodifying housing, whether directly, through investing in large-scale higher end housing, or through the continued market deregulation, encouraging speculative buying.
"Affordable" Government Housing Unaffordable
While most buyers already struggle to make ends meet, the high deposits of the government's Social Housing Project remain a challenge to many seeking the subsidised units, despite its attractive subsidised mortgage payback of 10 to 20 years. The requirement of a formal job is another condition that renders a large segment of those seeking such housing ineligible, or required to pay much higher down payments.
Twenty-four-year-old Ahmed, a marketing agent in a real estate firm, had applied in 2016 to buy subsidised Social Housing Project unit that was sold then for EGP 154,000. It was located in 6th of October New City, 30 km to the west of central Cairo, and 16 km form the Faisal neighbourhood in Giza. With a monthly income of EGP 2,000, the unit has a house-price-to-income ratio (HPI) of 6.4. So far, he is paying a minimum of 16% of it as a down payment including an initial payment of EGP 9,000 in addition to quarterly payments of EGP 4,000 since. Ahmed was able to finance the down payment through several gam'eyat (rotating saving schemes),[6] except the last instalment, which he had to borrow from his brother and is planning to repay it from his next saving batch.
Ahmed was still a first-year university student when he applied. He also worked at a gas station earning an official meagre salary of 30 EGP per month, as gas stations employees are completely dependent on tips. This unbelievably low salary would not have qualified him for a mortgage, and as a result, he sought a lawyer who for an EGP 100 fee, issued him a "job contract" stating the minimum salary needed to enter the program (EGP 1500), and making him eligible for the flat.
Almost a year after he applied, Ahmed had to pay an extra EGP 140 to request a new review to assess whether he is still eligible for the unit and provided his full personal information again,[7] as the bank told him his work situation had changed since he applied. Ahmed used to earn EGP 1500 a month then, EGP 500 less than he earns now. He thinks he now risks being disqualified from the program, or a change in the payment scheme, which may require him to pay a up to 40% of the unit price as a down payment, instead of 16%.
"They said they had sent someone to inspect my residence and will send another one to ask about me at my workplace to make sure I am qualified for the unit".
"If they find me in-eligible they will just refund my money…but the money is not worth what it was several years ago…I would have rather put it in a bank deposit and used its interest," complains Ahmed.
Even if Ahmed is found to be still eligible for the subsidised flat, and is not required to pay a larger sum of the down payment, it will be impossible for him to cover the mortgage without help. He expects that for his age bracket (younger than 30 years) he would get a 20-year subsidised mortgage that increases at a simple annual rate of 7%.[8]  In the first year, his monthly instalments would be EGP 480, which on paper is affordable as it is a manageable 24% of his income.
However, to be able to cover the down payment instalments, Ahmed is paying them off in EGP 1200 monthly instalments for the next few months towards the gam'eya. His EGP 800 university fees eat up the rest of his salary, making him dependent on his parents for his daily expenses. This leaves nothing to pay the mortgage.
Om Mahmoud, a nurse in her forties and a mother of three, has just applied for the 9th Social Housing Project ad, also in 6th of October.[9] The units have now jumped to EGP 192,300, up 25% over last year. The government cites the devaluation of the Egyptian pound, and has included a compulsory 5% maintenance deposit in the price. With an income of EGP 2000 a month, this represents an HPI of 8.0. She borrowed EGP 11,000 for the initial deposit from her two sisters and another relative, but is not sure how she will refund them. It is also not clear how she will cover the rest of the down payment of a minimum of EGP 20,000 (total 16% of the unit cost), within a years' time. Though she is hopeful her family members will not pressure her for repayment in the near future.
If she gets the unit, Om Mahmoud will be paying an instalment of EGP 600, as part of the 20-year subsidised mortgage. While the formal monthly instalment will eat out a barely manageable 30% of her income, adding repayments for her loan from her family members will increase her monthly housing costs burden to two fifths of her income,[10] not to mention other loans that she may need to cover her down payment and the other housing costs such as utilities and maintenance.
Om Mahmoud however, stands to lose a third of her EGP 11 ,000 deposit if she cannot complete her down payments. According to the updated Social Housing Project criteria, 2% of the total value of the unit will be deducted from her deposit as a penalty for not completing the purchase.
Demand on Informal Housing High
The informal private sector remains the main alternative for those who don't qualify for social housing. It is also one of the few options for buyers who do not want to commute far from the centre, away from their work and extended family networks—as government subsidised units are only offered in remote and poorly serviced areas.
Mohamed and Radwan, two middle aged informal sector contractors, co-own a 12-story building in an area called Mansheyet El-Bakary in Faisal, one of Giza's busiest neighbourhoods. The first five floors of the building are licensed, but the rest are not. They sell the 120 sqm flat for around EGP 180,000. The price of the flat depends more or less on which floor it is located and whether it is licensed or not. The 90 sqm flat sells for around EGP 130,000. According to the developers, an unlicensed flat in their building is roughly EGP 30-50,000 cheaper, depending on how far up it is from the licensed floors.
The two, together with other partners, have bought two other plots of land in a more lively and better serviced part of Faisal, in an area called Kaabeesh, where flats 120 sqm now go up to EGP 300,000.
In Mansheyet El-Bakary flat prices remain relatively low, says Mohamed who believes his flats are among the cheapest in greater Cairo, given that they are sold over two years' instalments.
According to Touny, another investor who has been working in Giza's Haram and Faisal for years, when construction costs were not as high, and the government harassed the informal sector less, a lot of money could be made selling middle income housing. He finds demand for flats between EGP 170,000 -350,000 high and sees a real shortage of supply in this segment.
"The good thing about [investing in] this sector was that you could sell the flats before even finishing the construction of the building" he says.
The flats offered by Mohamed and Radwan in Mansheyet El-Bakary are all sold with short payment schemes, mostly extending over 18 to 24 months, without which, Mohamed explains, most clients will not be able to afford them.
In his office on the ground floor of the new building, Amir, a taxi driver in his thirties, was finishing a deal. They agreed, after short negotiations, that he would buy the unfinished 120 sqm flat on the top floor for EGP 180 ,000, which at a HPI ratio of 2.0 seems affordable.[11] However, he would have to pay almost 40% of the flat's value upfront, which he plans to cover from two sources. A gam'eya, which he has been part of repeatedly over several years, will cover EGP 30,000. As well as EGP 40,000 from the khelew rigl (key money) that he will obtain to give up his current Old Rent (rent controlled) flat.
The remaining value of the flat, will have to be paid over quarterly instalments of EGP 20 ,000 over the next 18 months, or about 90% of his income over that time. Amir had initially offered to pay EGP 15,000 every quarter, covering the whole amount over two years. Mohamed and Mostafa insisted on an 18-month payment scheme instead, arguing that they co-own the flat with a third investor who is not willing to wait that much for the total sum. It is not clear how Amir will be able to cover his household expenses in addition to paying off his flat, as well as EGP 3000 for his car.
With high-burden paying schemes like these, it is no surprise than many default on their payment.
"One of our buyers is still 34,000 EGP short even though two years had already passed…I'm waiting; what else can I do in this economic situation! He sent me 7000 the past days and promised to pay the remaining amount" says Mohamed.
The relatively low prices and flexible payment schemes also come at a cost. The neighbourhood which largely consists of unpaved narrow streets suffers from extreme water shortages and sewage problems.
According to Tarek, another contractor in the area who is also a resident of the building opposite to Mohamed's, sewage water often floods streets.
"People avoid ground floors because of that… that makes ground-floor flats undesirable and less expensive".
The areas of Faisal and Haram generally suffer water shortages and electricity cuts too, asserts Touny. Those suffering the most are people living in the narrow side streets, no wider than 6 meters. Such small streets originally designed for a much lower residential capacity, have now become dominated by high-rises. Small streets far from the main roads can get as little as two hours of water a day.
Some street cafes and shops have dug wells to get whatever extra water they may get to keep their services going.
Informal Sector Shifts to Higher-End Housing
Mansheyet El-Bakary remains one of the cheapest areas in Giza, according to contractors in the area; its prices have, nonetheless, increased significantly over the past months. According to Tarek, a contractor operating in the area, a flat that used to cost EGP 170,000 a few months ago costs 200,000 today, an 18% hike.
The contractors blame this increase on high construction costs, a devalued pound, and the government's harassment of informal developers.
As a result, investors are increasingly becoming reluctant to put their money in middle-income housing. Most people investing in the informal sector are not originally developers by profession; they are people who are just putting their money in a profitable venture.
"Here you find a hairdresser co-investing with another who had just inherited a sum of money for example…they would build a high-rise and sell the flats as a way to invest their money".
"The high-interest rates offered by banks today have attracted many to [invest] their money in bank deposits rather than invest it in real estate as they used to do before", which ultimately reduces the supply of these units.
According to Touny, the instability of the Egyptian pound has made it also riskier to offer instalments[12]
"With the value of the pound so unstable you could have sold something over instalments and regret it. What I did was that I moved instead to buying plots of land or flats in instalments and kept them to be sold later"
Last May (2017), the government launched a heavily publicised campaign to clear state-owned land of squatters and land grabbers, as well as demolishing informal buildings. After three weeks it claimed it had demolished buildings on almost 28,000 acres of state-owned land, in addition to demolishing or legalising informal buildings on 1.7 million acres of privately owned agricultural land.[13]
"The government is using a strong hand against informal buildings and the losses can be really high" says Touni.
"Authorities more often confiscate building material during construction…when the government confiscates a cement mixer which costs EGP 18,000, I will not bear the cost myself…I will just add it to the price of the flat" says Mohamed, which ultimately leads to increasing housing prices.
Meanwhile, a ton of steel, according to Touny, has gone up from EGP 7,000 to EGP 12 ,000. With such high construction costs, it is hard to offer flats as low as EGP 200,000 – 300 ,000, says the developer who stopped investing in "this sector" altogether in reference to housing units sold at less than EGP 400,000.
"The profit margin is not enough anymore" he asserts.
Government Policies Commodify Housing Further
The private sector and the devaluation of the pound have not been the only agents making housing increasingly unaffordable. The government has been actively commodifying housing, both through investing in property, as well as through policy.
The New Urban Communities Authority (NUCA), a state-owned enterprise administered by the Ministry of Housing, and Egypt's biggest land developer by far, is investing in three, large-scale for-profit housing schemes, in addition to the urban land plots it sells. A lucrative business with annual revenues of nearly EGP 40 Bn.[14] In late 2014, NUCA launched what it coined as "middle income housing". "Dar Masr" would build 150,000 units over the next few years, where the first batch of 30,000 units ranged in price between EGP 250,000 to EGP 637,000. Less than a year later, a second phase of 25,000 units was offered with prices increasing by a full 29%. The project was heavily criticised for bumping up real estate prices in general  by 30%.[17] In September 2017, NUCA launched the Sakan Masr Project, offering 40,000 units ranging in price between EGP 446,775 and EGP 592,000, While it was billed targeting households straddling low income and middle-income, Sakan Masr's cheapest unit was more than double the comparably sized Social Housing units, which are sold at cost.[19]
NUCA has also been building 25,000 high-end housing units, including town-houses and stand-alone villas, in the New Administrative Capital.[20] While prices have not yet been finalised, a NUCA deputy has stated that prices will "not be less than EGP 10,000 per square meter." [21]  With units that range in size between 125 sqm to 328 sqm, [22]  that means sale prices of between EGP 1.25 mn. to 3.28 mn. The cheapest unit being four times the national median house price.
The government has also encouraged house price inflation through a raft of commodification policies that further deregulate the market, even more than it already has been.[23]
Last May, it raised the minimum value of property qualifying non-Egyptians for a residency permit to USD 100,000.[24] At a large real estate conference in October, housing minister Dr. Mostafa Madbouli, stressed the importance of what he called "exporting Egyptian real estate" by personally promoting direct sales to non-Egyptians who will pay in foreign currency, adding that the "ministry is backing real estate companies ready to export properties by means of forging regulations, and quashing obstacles hindering the lucrative business of exporting properties."[25] NUCA has also expanded in selling units and individual land plots to Egyptians abroad, exclusively in US dollars, through a special website, nuca.gov.eg, that can only be accessed from outside Egypt.
Recommendations
Government Must Stop Erosion of Housing Affordability
As the two main providers of urban housing for middle to lower middle-income housing abandon those segments, Egypt is set to see more households living in deprived conditions as they are only able to afford far less adequate shelter in dilapidated buildings, settlements with inadequate access to water or sanitation, or over-crowding existing dwellings.
Official policies to further commodify housing will only serve to exacerbate the crisis, while more and more housing units, many of them of high building quality and well serviced with infrastructure, will stand empty for years.
Recommendations for government and parliament: Take up role as regulator and increase housing affordability by:
1.Decommodifying the property market by:
Reversing current policy of "exporting real-estate", and instead protecting the local buying power.
Curbing speculative buying and selling by raising capital gains tax on properties sold within ten years of being bought, and reducing it thereafter
Encouraging the social production of housing by restructuring current cooperative housing laws
Increasing transparency of the land and property market through a national publicly accessible database of land and property prices
2.Decommodifying the land market by restructuring urban land policy to:
Offer state land only through long-term leases and not for outright sale
Impose social mix on new and old urban land developments
Decentralise NUCA and allow the development of desert land adjacent to existing urban settlements (For more on this point see the recommendations of the BE Budget 16/17: Part II)
Massively raise share of land earmarked for equitable, cooperative, social production of housing
3.Promoting the use of the existing, vacant housing stock by:
Supporting the repair of hundreds of thousands of dilapidated buildings by earmarking a major portion of the Social Housing budget towards grants and subsidised loans for home-owners
Subsidising rent of market units for extremely poor to middle-income renters through Social Housing rental cash vouchers
Pressuring for the renting out of usable vacant units through better enforcement of a balanced relationship between tenants and landlords, and a restructuring of the real estate tax to penalise usable vacant units
Endnotes
[1] Units that could be potentially used for housing. CAPMAS. 2017 Census, Final Results. http://www.capmas.gov.eg/Pages/ShowPDF.aspx?page_id=/Admin/Pages%20Files/201710914947book.pdf
[2] BEDI Affordability Index, 10 Tooba, September 2016. http://10tooba.org/bedi/en/affordability/
[3] Preliminary information by 10 Tooba for updating the 2016 BEDI Affordability Index, relying on 1545 sales in the capital cities of all 27 governorates, shows that the median house price in June 2017 was EGP 360,000. In June 2016 it was EGP 274,510.
[4] According to statistical forecasts for 2017 based on previous CAPMAS HIECS data for national average income. The higher forecast includes the 2015 HIECS, which showed an unusual jump in income. The lower figure discards the 2015 HIECS. See: CAPMAS HIECS 2004/05, 2008/09, 2010/11, 2012/13, and 2015.
[5] Middle-income households are those that earn the average income according to the CAPMAS HIECS. In 2017, they are forecast to have an annual income of between EGP 43,337 and EGP 52,226 (see last footnote.) They
[6] A gam'eya is a collective fund to which each member pays a monthly amount; one member collects the amounts paid each month, and this collector rotates every month.
[7] Age has to be between 21 and 50 years, salary is neither lower than EGP 1500 (mortgage stipulation form bank) and not higher than EGP 3500 for households. For more see: Social Housing Project Advertisement, New Urban Communities Authority, July, 2015 http://tinyurl.com/yccq6jv5
[8] Current market interest rates on lending are higher than 20%
[9]  A number of eligibility criteria were changed in this recent round, with income brackets rising to a minimum of EGP 1685 and a maximum of EGP 4740 for households. While 2% of the entire value of the unit will be deducted from the deposit upon refund if applicants choose not to continue. Social Housing Project, 9th Advertisement, New Urban Communities Authority, 24.07.2017 http://www.newcities.gov.eg/dis_alaan.aspx?ID=85
[10] Assuming she would repay her loan over three years in equal monthly installments.
[11] The HPI (house-price-to-income) ratio is the price of the flat divided by annual income. Amir stated that he earns a seasonal high of EGP 10,000/month for two months of summer holidays (July and August), and earns around EGP 7000/month the rest of the year. This equates to an average annual income of EGP 90,000. It is worth noting that the interviewee might be exaggerating income due to the presence of his future creditor.
[12] Egypt witnessed a foreign currency shortage crisis before the Central Bank of Egypt announced the decision to free float the Egyptian pound in November 2016, devaluing the Egyptian pound against the dollar.
[13] "Nanshur Tafasil Musharakat al-Raeis fi Mu'tammar Isti'rad Mustagadat Malaf Izalat al-Ta'adiyat 'ala Aradi al-Dawla, Al-Ahram, 07.06.2017 gate.ahram.org.eg/News/1522528.aspx
[14] NUCA's forecasted revenues for the current fiscal year are EGP 38.9Bn. Law 177/2017 Appropriating the NUCA Budget for FY 2017/2018.
[15]  Dar Masr Phase 1 ToR, NUCA, 25.11.2014. Also see: Dar Misr Project, NUCA Website n.d. Archived 26.10.2017 http://www.newcities.gov.eg/english/Dar_Misr/default.aspx
[16]   Dar Masr Phase 2 ToR, NUCA, 11.10.2015
[17] "Al-Iskan al-Mutawaset Yada' al-Wizara fi-Ma'zaq.. Wa Khubara': al-As'ar Mubalagh Fiha wa Rafa'at Suq al-'Aqarat 30%", al-Ahram, 18.12.2014 http://gate.ahram.org.eg/News/574153.aspx
[18]  Sakan Masr Phase 1 ToR, NUCA, 10.09.2017
[19] The advertised cost for the units is their actual cost, which can be subsidized according to a sliding scale by up to 13%, while applicants are offered subsidized mortgages.
[20] New Administrative Capital, NUCA, n.d. Accessed 26.10.2017 http://www.newcities.gov.eg/english/New_Communities/NewCapital/default.aspx
[21] "Si'r al-Mitr bi wihdat al-'Asema al-Idariya lan Yaqil 'an 10 alaf Geneih", al-Mal, 06.09.2017 http://www.almalnews.com/Story/344901/16/%D8%B3%D8%B9%D8%B1-%D8%A7%D9%84%D9%85%D8%AA%D8%B1-%D8%A8%D9%88%D8%AD%D8%AF%D8%A7%D8%AA-%D8%A7%D9%84%D8%B9%D8%A7%D8%B5%D9%85%D8%A9-%D8%A7%D9%84%D8%A5%D8%AF%D8%A7%D8%B1%D9%8A%D8%A9-%D9%84%D9%86-%D9%8A%D9%82%D9%84-%D8%B9%D9%86-10-%D8%A2%D9%84%D8%A7%D9%81-%D8%AC%D9%86%D9%8A%D9%87
[22] "Bil Suwwar: 'ayiz Tuskun fil-'Asema al-Idariya? Ta'araf 'ala al-Wehdat al-Sakanika Biha", al-Watan, 25.10.2017 http://www.elwatannews.com/news/details/2649507
[23] Yahia Shawkat. "Egypt's Deregulated Property Market: A Crisis of Affordability." MEI. 05.05.2016. www.mei.edu/content/at/egypts-deregulated-property-market-crisis-affordability
[24] Cabinet increases property value required to qualify for residency to US$100,000, Mada Masr, 04.05.2017 https://www.madamasr.com/en/2017/05/04/news/u/cabinet-increases-property-value-required-to-qualify-for-residency-to-us100000/
[25] Egypt to back exporting properties, provide a plethora of incentives", Al-Mal News, 30.10.2017
http://en.almalnews.com/Pages/StoryDetails.aspx?ID=8678#.WgreDGhSyHs